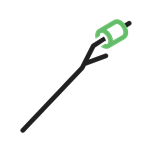 April 18th, May 16th, and July 6th

12:00 PM – 5:00 PM

$25/person (kids 4 and under free!)
Join us at Haycock for one of our upcoming Spring Family Days! This spring, we are opening up camp on select Sunday afternoons for family units to take a day trip to visit. During the afternoon, we will be offering a variety of our favorite Haycock activities for your family to do while you're here, including archery, riflery, climbing tower/zipline, slingshots, and other favorite camp ranges. You can spend the day enjoying camp at your own pace! Each activity will be run by one of our Haycock staff members, and allow for social distancing between participants of different family units. Between activity times, take a walk around our camp trails or make use of our free time activities like our pedal carts, frisbee golf, yard games, orienteering course, and more! Lunch is not provided, but each family will have their own picnic space assigned for them to eat.
The cost of admission is $25 for each member of your family unit (kids ages 4 and under are free!). This fee includes afternoon campground access and access to all activities that we are running that day. To learn more, or to start the process of signing up for a Family Day, email Max Whylings at [email protected].
If you would like to come for a Family Day but are unable to attend on the dates below, we have limited availability on other weekends or weekdays. Please let Max know what dates are available for you and we will do our best to accommodate your family!